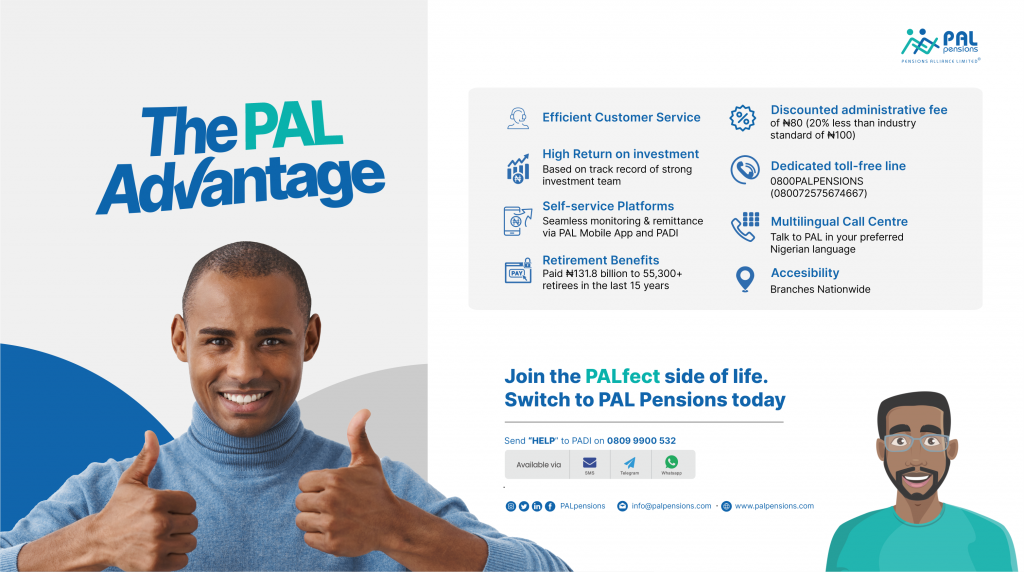 When it comes to securing your financial future, especially in your retirement years, the right partner can make all the difference.
In this blog post, we will be unveiling the PAL Advantage and why choosing PAL as your Pension Fund Administrator (PFA) is a smart move on your journey to financial security and a fulfilling retirement.
Before diving into the various benefits of choosing PAL Pensions, here is what you should know about PAL.
PAL Pensions is owned by two reputable financial institutions, FSDH Holdings Limited (owners of FSDH Merchant Bank) and African Alliance Insurance Company Limited (AAIP), and was established in 2005 with the primary mission to secure and deliver your retirement benefits with ease.
With over 17 years of experience as a Pensions Fund Administrator, PAL Pensions has sustained its reputation as a reliable institution and the people's choice with over 600,000 customers who have trusted the brand to help them secure a brighter retirement future.
Why Choose PAL Pensions? The PAL Advantage
Now, let's explore the advantages of choosing PAL Pensions, which we refer to as the "PAL Advantage":
1. Outstanding Customer Experience: At PAL Pensions, we offer an unparalleled customer experience within the industry.
The PAL Pensions website, RSA portal, PADI (self-service platform), and Mobile App are designed to streamline your interactions with us, making it easier for you to manage your pension account and access valuable information.
With a physical presence in every state of the federation, we are the preferred choice of numerous RSA holders across the country.
2. Exceptional Professional Experience: As one of the pioneer PFAs, licensed under the Pension Reform Act 2004, we bring over 17 years of professional experience in pension fund administration to the table. Our institutional knowledge of Nigeria's pension landscape is a priceless asset.
3. Proven Track Record: PAL Pensions boasts of a reliable investment team with a strong track record of delivering solid investment returns over the years. The impressive average return on investment (ROI) in our flagship fund (FUND II) positions us favorably in the industry. Notably, we have disbursed more than ₦128 billion in benefit payments to over 79,000 beneficiaries since inception. Furthermore, our clients on programmed withdrawals consistently receive their credits on the 20th of every month.
4. Compliance: We are unwavering in our commitment to compliance. PAL Pensions is duly licensed and regulated by the National Pension Commission (PenCom). All our innovative solutions are delivered within a robust compliance framework, upholding high governance standards.
Your retirement years should be the best years of your life, and with PAL Pensions by your side, you can achieve that. We are dedicated to ensuring your retirement is smooth and enjoyable.
Secure your pension funds with PAL Pensions—an easy and reliable choice for a prosperous retirement. Your golden years await you, and PAL Pensions is here to make them shine brighter.
Embark on Your Retirement Journey with PAL Pensions Today
Visit our website at https://www.palpensions.com and embark on your path to a secure retirement today.